CoSort Support Termination Dates
IRI has provided technical support for every CoSort release for at least five years. Each Q1 newsletter in even years notifies CoSort users of version support and sunset dates:
CoSort v8.2x
-
first released in August 2004 and no longer shipped after December 31, 2009. Official support ended on December 31, 2012.
CoSort v9.1x
-
first released in April 2007 and no longer shipped after December 31, 2012. Official support will end on December 31, 2015.
CoSort v9.5x
-
first released in April 2011 (and likely succeeded by v10) will continue to ship through December 31, 2015. Official support is anticipated through December 31, 2017.

Official support means that these versions will no longer ship and that, while IRI may sometimes provide a solution or workaround to a problem, no code modifications to those releases will be possible. IRI recommends that you upgrade CoSort when practical, keep your maintenance status current, and contact support@iri.com with any questions or concerns.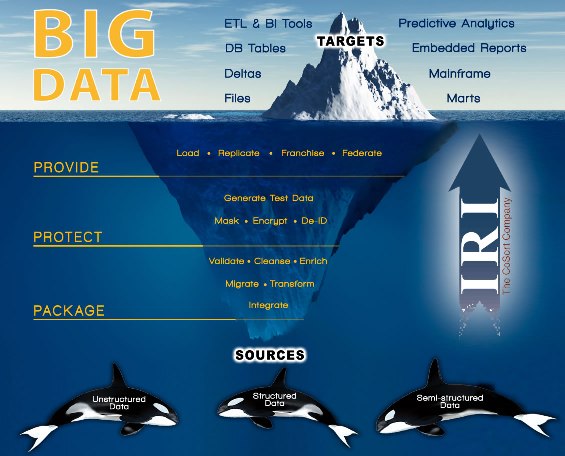 Is Hadoop Right for You?

Hadoop is a promising performance platform for many large organizations with big data, budgets, and timelines. However, there are still considerable failure rates and skills gaps to overcome before Hadoop is a more viable approach to big data, especially for smaller and medium-size enterprises (SMEs).

If you're unsure about, or not yet ready for Hadoop, and need to manage big data now, consider the proven performance alternative that is CoSort today. See this page and blog article for details.




NextForm v3: Five Ways to Migrate Data


The latest version of NextForm comes in five different configurations based on your data sources and conversion goals.

Lite - includes the NextForm program and IRI Workbench (Eclipse GUI)
COBOL - Lite plus Micro Focus libraries for flattening Vision/ISAM files
DBMS - Lite plus ODBC libraries for relational database migrations
Unstructured - Lite plus UIMA libraries for structuring unstructured data
Premium - Lite version and all libraries
Use NextForm for data, file and database migration, plus data replication, federation, and reporting. For more information on edition features and prices, click here.

Tech Tip: Date Format Masking
Not to be confused with data masking (for protecting PII), date masking is used to define and convert the layout of date fields when the input format is different than the target (usually database) requires. The composite field syntax in CoSort v9.5.3 gives SortCL users the ability to remap dates and other data formats. See an example of date format masking here.

Copyright © 2014, Innovative Routines International (IRI), Inc. All Rights Reserved. CoSort, FieldShield, and NextForm are registered trademarks, and RowGen is a trademark of IRI, Inc. FACT is a trademark of DataStreams Corp. (CoSort Korea). All other product, brand, or company names are, or may be, (registered) trademarks of their respective holders.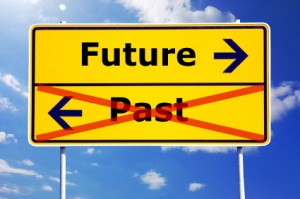 IRI Partners with LPS for VSAM Conversion, etc.

IRI and Language Portability Solutions (LPS) are helping mainframe users convert their COBOL applications, data, and JCL for use in Microsoft .NET, SQL Server, and Windows batch environments.

The combination of our tools and technologies speed migrations to Windows and simplify application maintenance. See the press release.




IRI Expands Professional Services Division


In January, we announced the expansion of IRI Services to provide consulting, implementation, and customized solutions for a wide-range of data-centric problems. The IRI Data Manager and IRI Data Protector suites in Eclipse support our solutions, and your future needs.

IRI brings more than a hundred years of collective IT and data handling experience to transform client requirements into successful outcomes. See the announcement here and the division page here.


A Higher State of Data Quality
The highest quality data is developed through data governance. Establishing governance standards requires rules about data values and relationships. Those rules must also be monitored and measured. Read our new blog article here and see this Data Quality page.


Predictive Analytics: Finding the Future in Big Data
Predictive analytics (PA) is closely related to traditional business intelligence (BI) and analytics. Technological innovation in PA give companies a chance to predict trends, consumer behaviors and factors that help optimize resource uses and revenue streams

. See what IRI has to offer

here

.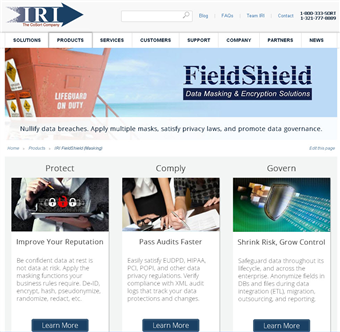 New Product Portals
See our new landing pages for CoSort, FACT, NextForm, FieldShield, and RowGen. Graphics, videos, and other improvements are in development. Bookmark www.iri.com and subscribe to the blog to stay up to date.