Letter to the editor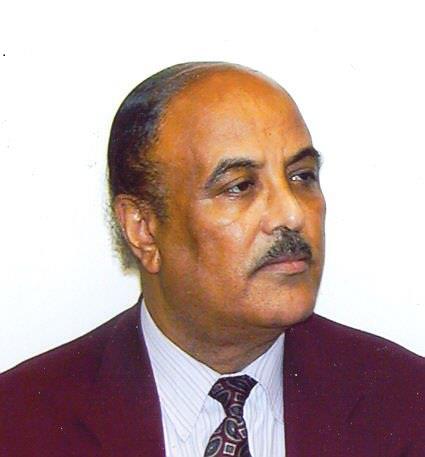 Dear reader
Nubia Bulletin received the following message from Professor William Y. Adams, the renowned academician, Nubiologist and the author of the masterpiece: Nubia, Corridor to Africa:
Quote:
"Dear Nuraddin,
It's wonderful to be kept up to date on Nubian developments in this way, and you are surely to be congratulated on the effort you have put into the compilation and arresting design of the Bulletin. I learned a lot! However, I do think a document whose main purpose is to stop the dam-building would be more effective if it were more narrowly focused on that one issue.
I hadn't heard about the arson of the date trees. Can you furnish data about where and how this happened?
All best wishes to you and family,
Bill Adams
Unquote."
Editor: Thank you Bill. We will take care of your valuable advice and will bring more details about the mysterious cases of arson in Nubia.
---
Appeal to the World Monuments Watch
Fund to Protect Nubian Monuments

2014 World Monuments Watch nominations are now being accepted. Deadline for nominations is March 1, 2013.
Every two years, World Monuments Fund (WMF) accepts new nominations to the World Monuments Watch. Nearly 700 sites on all seven continents have been included in the nine Watch cycles since 1996.
The announcement of the 2012 Watch was covered by 1000 news outlets in 65 countries, with circulation to over 700 million people worldwide. By capitalizing on the attention raised by Watch listing, local entities have leveraged support for Watch sites totaling over $180 million. WMF has contributed an additional $90 million toward projects at Watch sites in more than 80 countries.
Read more.
http://wmf.org/watch
Questions about the nomination process should be directed to watch@wmf.org
Nominating a site to the Watch is a two-part process. Click here to submit an initial inquiry, after which a username and password will be provided to access the secure Online Nomination Form.
Where do we stand, ad are all Nubian monuments protected or under watch??
Please circulate this to colleagues and contacts who might be interested in submitting a nomination.
---
Nubian NGOs can nominate sites, says

World Monuments Watch Fund
In response to an explanation from Nubia Project, the World Monuments Watch Fund responded:
Quote: "Dear Nuraddin Abdulmannan,
Thank you for your interest in the 2014 Watch and your concern for Nubian heritage. We can accept nominations from NGOs. To proceed with the nomination process, please complete the inquiry form located here: http://www.wmf.org/watch/2014-inquiries.
Best regards,
Brittany Brown." Unquote.
Nubia Project calls upon all academicians and friends of Nubia to help nominate the most threatened Nubian artifacts to the upcoming 2014 Watch by completing the above mentioned form.

---
Nubia is under siege and for sale!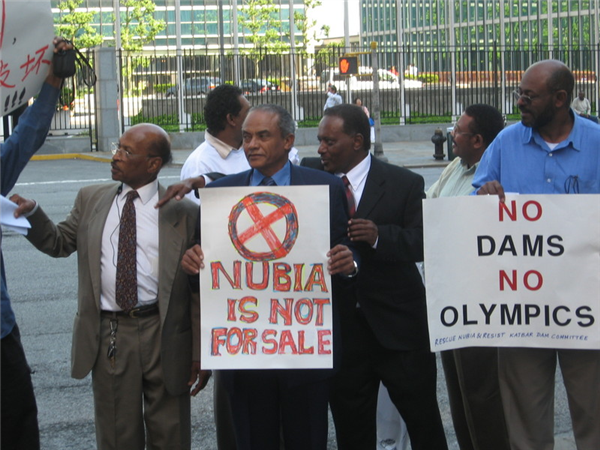 Late Bashir Bakkar holds a poster " Nubia is not for sale" in front of UN, New York
Nubian lands and resources are under siege. Egyptians, Libyans, Qataris, Chinese and other nationals are given vast lands for cultivation in the Nubian Triangle Aquifer while Nubians are displaced by dams, marginalization and poverty.
During September 2012 the local authorities issued a decree to confiscate all agricultural lands owned by cooperatives in Wadi Halfa Municipality depriving Nubians from their rights on their ancestral lands.
Another threat posed on Nubia is the Four Freedoms Agreement signed between governments of Sudan and Egypt in April 2004. The agreement allows millions of Egyptian farmers to settle down in the Nubian lands, own lands and get naturalized in 5 years. This will lead to a demographic displacement and replacement where the indigenous Nubians will be minorities in their ancestral lands.
---
UNESCO! SOS NUBIA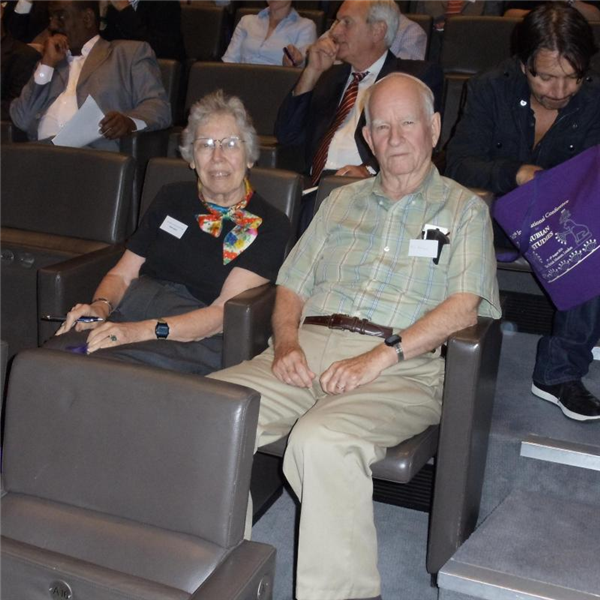 Prof. Bill and Prof. Nettie in Vienna
Professor William Y. Adams headed the UNESCO expedition to salvage the Nubian monuments in 1960s from the Egyptian High Dam. The expedition was the largest of its kind in UNESCO's history and unveiled the greatness of an unknown civilization that was a rival to that of Egypt on the Nile Valley. the credit goes to Professor Williams B. Adams, his wife Professor Nettie Adams and their colleagues who brought Nubia back to the world.
Nubians recognize with gratitude, the great role UNESCO had played under the leadership of late Prince Sadruddin Agha Khan. Nubians still hope that Ambassador Irina Bokova, UNESCO's Director General takes another historic lead to salvage the Nubian monuments from dams before it is too late.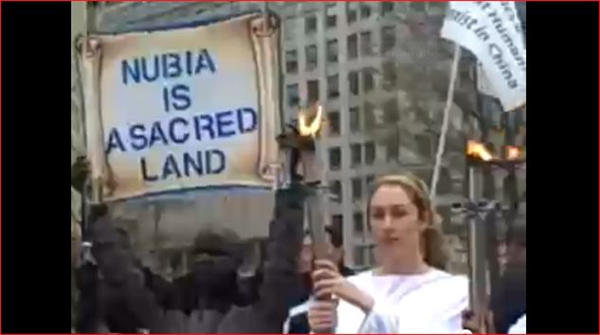 Nubians demonstrate at the Freedom Plaza, Washington, DC against China and dams
---

Stop damming Nubia, prior to lifting sanctions and cancellation of Sudan's external debts

Sudan's government has urged the international community to cancel its external debts, lift sanctions and to take positive positions towards the country, while it is still waging wars on its own people in Darfur, Nuba Mountains, Blue Nile and damming Nubia. The Sudanese Americans Sudanese Europeans will ask their representatives in US Congress and in the European Parliament to exert more pressures on Sudan's government to change its destructive policies and restore democracy before asking for debt removal or lifting sanctions.
Nubia Project urges the US Congress and the international community to make the issue of damming Nubia and destroying its monuments as one of the prior conditions of lifting sanctions or debt cancellation. The Nubian American tax payers do not want their hard earned money to go to the Sudan's government who is destroying Nubia and committing genocide in Nuba Mountains, Blue Nile and Darfur.

---
Alarming Asbestosis cancer among Nubians!

When 50,000 Nubians were relocated to Khashm Elgirba, Eastern Sudan in mid sixties of last century after the construction of Egypt's High Dam, they were cramped in concentration camps like houses with asbestos ceilings and water pipes. After about half a century now the asbestos ceilings and water pipes began to tear and wear and many cases of asbestosis cancer began to appear among the Nubian residents! We alerted the authorities to the dangers of asbestos and the necessity of relocating Nubians back to their ancestral lands but our requests fell on deaf ears. We alert the international organizations such as WHO to urgently extend a helping hand to the Nubians who are facing this hidden annihilation.
Subscribe to the Nubia Bulletin mailing list.
---
Sai Island First Nubian Fest Postponed!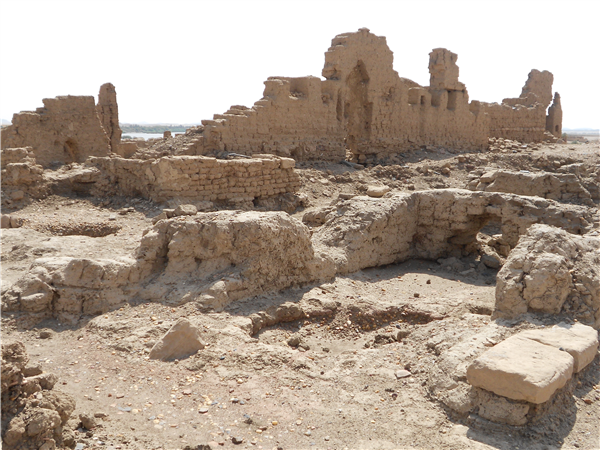 Remnants of Sai Island historical sites
The organizers of the Nubian festivals in the historic island of Sai, in the Northern State were unable to proceed with their attempts to organize the festival due to hindrances from the authorities who are hostile and negative towards any Nubian activity.
---
A Salafi Sunni Minister for Tourism!!
Sudan has appointed a new Director General for the National Corporation for Antiquities and Tourism, Dr. Abdelrahman Ali Mohamed. This assignment comes after a Salafi Sunni, Dr. Mohamed Abdelkarim Elhad had been appointed as Minister for Tourism, Antiquities and Wild Life. This assignment brought skepticism and worries among many over the fate of Nubian antiquities from a possible threat from the Salafis who are known by their hostility to antiquities which they consider as anti-Islamic symbols for paganism.
Further to the NB editor's note on September 2012 issue,Nubia Bulletin expresses its utmost worries over this issue and would like to know the opinion of the newly appointed Director General, Dr. Abdelrahman as well as the opinion of the Sudanese authorities, academicians and the members of ISNS.
This is an early whistle to avoid any threat to the Nubian monuments and artifacts from the fanatics.
---
Big Question!





Why Nubia was and still targeted by radical Arabs and Islamists?

The answer will be in our commentary on the 4th issue of Nubia Bulletin in November 2012 issue. Your comments are welcome.




Editor.

---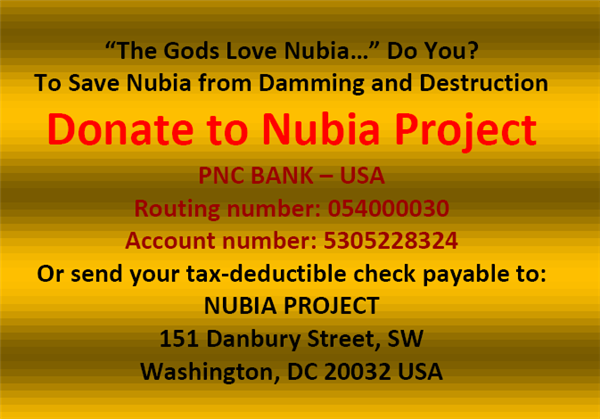 A penny can make a difference to save Nubia