Naked Food Magazine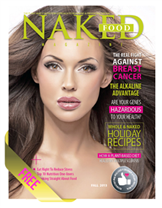 When I find a great chef, a great recipe, or a great source for accurate, scientifically-based and clinically proven information on a low-fat, whole food, plant-based lifestyle, I like to pass it on to all of you. I hope that it will help you to make informed, health-promoting, and delicious choices at meal time.

This magazine is all about Naked Food. Per their web site:

"Naked Food is a national health initiative that proposes the switch from the Standard American Diet (SAD) to the New American Kind and Enlightened Diet (NAKED).

The initiative focuses on preventing and reversing chronic degenerative diseases such as cancer, diabetes, heart disease, Alzheimer's, lower respiratory diseases, nephritis, and multiple sclerosis among others. It also addresses other non-deadly conditions that are affecting the current state of health such as obesity, osteoporosis, chronic pain, digestive health, and hypertension, also linked to nutritional factors."

Get a free copy of the magazine at the following link: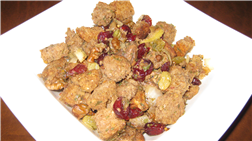 Bread and Herb Casserole
From Ecological Cooking: Recipes to Save the Planet
This is my favorite stuffing recipe. It is one of the dishes that I make for Thanksgiving.
Serves 4.

4 cups whole grain bread cubes (recipe below)
1/4 teaspoon dried sage
1/4 teaspoon dried thyme
1/4 teaspoon dried rosemary, crushed
1/4 teaspoon dried marjoram
1 tablespoon dried parsley
1 tablespoon nutritional yeast
salt and freshly ground black pepper, to taste
1/2 cup chopped onion
3 tablespoons olive oil (I use 1 tablespoon and it turns out just fine.)
1/2 cup lightly chopped walnuts
1/2 cup chopped celery
1/2 cup sliced mushrooms
1/2 cup chopped dried fruit (I use a blend of dried cranberries, raisins, and golden raisins.)
2 tablespoons tamari (I use Bragg's Amino Acids, a healthy alternative to soy sauce, available in most grocery and health food stores.)
1/2 cup boiling water or vegetable stock

Preheat oven to 350 degrees F.

Mix bread cubes with herbs, nutritional yeast, salt, and pepper. Add onions, oil, walnuts, celery, mushrooms, and fruit. Combine tamari and boiling water or stock, and pour all over to moisten, adding more liquid if mixture is too dry. Place in a lightly oiled 1-quart baking dish (I do not oil it and it is just fine.), cover, and bake for 20 minutes (If covering with aluminum foil, I recommend you place a sheet of parchment paper between the foil and your food.). Uncover and bake for 10 minutes longer. Serve with your favorite vegan gravy or mushroom sauce.

Whole grain bread cubes are very simple to make. Just cube your favorite whole grain bread (I like to use Ezekiel 4:9 Sprouted 100% Whole Grain bread.). Place on cookie sheets and bake for 15-20 minutes at 350 degrees F until dry but not browned. Let cool before using.




















































O'Soy's live active cultures are milk-based! So I highly recommend that instead, you opt for one of the many delicious non-dairy yogurts that are completely plant-based. So Delicious coconut milk yogurt and Silk Fruity & Creamy are two alternatives that I would highly recommend.







How Much Water Do I Need?


How many times have you asked this question? Is the 64 ounces we hear most often the best recommendation? An interesting article by Jeff Novick, MS, RD may surprise you.

Based on his research, it's not appropriate to make one blanet recommendation for every person. There are too many variables that affect each person's individual needs, which can also be different from day to day.

Athletes and those that perfrom strenuous work in the midday sun may need to drink more water to replace lost fluids.

What we eat may also influence our needs. The standard American diet can be as low as 3% moisture and can be high in salt, whereas a lifestyle which includes plenty of intact grains, which are around 70% moisture, and fresh fruits and vegetables, which are around 90% moisture, would require less supplemental water.

The research and Jeff both recommend that the best approach is to replace fluids in response to thirst, and those fluids should be pure water.




If My Information is Helpful, Please Like Me, Follow Me, and Share Me Others















Please help me to expand the reach of my message! People have the right to know about the powerfully protective effect of plants and the incredibly dangerous impact of animal products on their health so that they can make informed decisions that are in the best interest of their family.























































I can save you $25 (US customers) or $35 (Canadian customers) off of your shipping expense if you use the following promotional code when ordering either online at www.vitamix.com or by calling 1.800.848.2649. I do receive a small commission from Vitamix for every purchase made using my promotional code, but it wouldn't change my recommendation of this product even if I didn't.



Promotional Code: 06-008273