Tracey Eakin, Plant-Based Nutrition Counselor
November 2012 E-Newsletter
Introducing my new company logo, Vegeta-bull, created by the very talented David Bowers, www.dmbowers.com.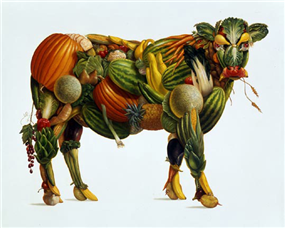 Is Cooking Bacon the Second Hand Smoke of the Meat World?
According to Michael Greger, MD, it very well may be...




Dr. Greger recently reported on a study where researchers discovered that the level of the potent carcinogens nitrosamines are so high in bacon that they even found them present in the bacon cooking vapors. A

s a result, the researchers recommended cooking bacon outside when possible and not exercising near cooking bacon as the increase in your lung volume during physical exertion could increase your exposure.




To put this into perspective, nitrosamines are considered to be the most carcinogenic agents in cigarette smoke. Just 4 hot dogs contain a level of nitrosamines higher than what is found in an entire pack of cigarettes. Unfortunately, they are not just prevalent in bacon and hot dogs, but in all processed meats including smoked and canned meat.




So protect your loved ones from these insidious compounds and avoid animal products altogether. Eat a variety of whole grains, legumes, vegetables, and fruits and see how good a plant-based lifestyle can feel.


To watch Dr. Greger's compelling video, just follow the link below:
http://www.nutritionfacts.org/video/carcinogens-in-the-smell-of-frying-bacon/
Eating Healthy During the Holidays

Did you know that the average holiday meal contains about 4,500 calories and over 200 grams of fat??? Here are some tips to help your health (and your weight) weather the holidays:


Don't write off November-January as a total loss and as a result eat mindlessly the entire time. Continue to eat healthy and exercise each day.

Don't starve yourself the day of the party thinking you'll save up the calories. By the time you arrive, you'll be so ravenous you'll eat everything in sight. Eating small, healthy meals throughout the day will help you to maintain control once you get to the party.

Offer to bring a dish to the party that you like and that is healthy so that you can be sure there will be something for you to eat.

While the appetizers are being served, walk around with a small plate with some food on it, healthy food if there is any. Your host will be less likely to continue to offer you food if you already have something on your plate. You can use this same tip during dinner as well.

If you do overindulge, get right back on the wagon the next morning and have a blessed holiday season!
Restaurant Spotlight of the Month - Loving Hut
Loving Hut is a 100% plant-based restaurant, also known as a vegan (VEE-gan) restaurant. It is located at 5474 Campbells Run Road, Pittsburgh, PA 15205. They have such an extensive menu that it can be difficult to choose what to eat. For this reason, I suggest that you try to make it to their all-you-can-eat buffet the second Saturday of each month held from noon to 8:30 pm. That way you can sample multiple menu items. I have never had a meal that I didn't enjoy and I try to get something different each time I visit. For more information, follow the link below to their web site and try them soon and often. You won't be disappointed!
http://www.lovinghut.us/pittsburgh_01/index.html
Upcoming Speaking Events Open to the Public
Advanced registration is required for all events held at Peters Township Rec. Center. Call 724.942.5000. $25/class members; $38 class/non-members:

Intro to Plant-Based Living
December 17, 7-9 pm

Dietary Excellence for Children
November 19, 7-9 pm
December 10, 7-9 pm

Intro to Plant-Based Living with Cooking Demonstration and Food Samples
January 10, 7-9 pm
January 24, 7-9 pm
February 7, 7-9 pm
February 21, 7-9 pm

Plant-Based Lifestyle Workshop with Uma Purighalla, MD and me
January 16, 7-9 pm
St. Clair Hospital
Price to be determined.



Give the Gift of Good Health This Holiday Season


Do you have a loved one whose health could use a boost? Pointing them in the right direction may be all that they need. Consultation gift certificates are available for $100 (which also includes a copy of my e-book and all subsequent editions free). My e-book, Taking the Guesswork Out of Adopting a Plant-Based Lifestyle, is also available for sale on my web site for just $9.99 plus tax. Follow this link and you'll be a few mouse clicks closer to the completion of your holiday shopping!

Buy my e-book.