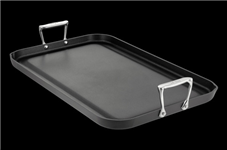 Thanks to my good friend, Caroline Graettinger,
Garden Dish
's Chief Vegecator, I was introduced to my new, favorite addition to my kitchen.
I've spent untold amounts of money on non-Teflon, "non-stick" skillets. They all start out non-stick, but quickly loose their effectiveness. This griddle is pricey, but pancakes never stick and hash browns are a breeze! Clean-up is just as easy. It was worth the money. Twice a year, All-Clad has a factory sale where you might be able to pick one up at a discount.
I hope they add a large wok to this collection. For more information, click the following link:
All-Clad Hard Anodized Collection