Call to Young Artists: 2013 High School Art Scholarship:
Cobalt Moose Art Studios announces the opening of an art scholarship competition for all Gallatin County high school students. Students in grades 9 to 12 are encouraged to enter this event for two-dimensional representational artwork. Five finalists will be chosen to participate in "Art on the Lawn," an annual art social held in August at Cobalt Moose Art Studios in Bozeman. The winner will be selected by a professional artist based on the strength of their body of work, and will be announced at the event. The scholarship will be funded by 50% of the sales from the silent auction of fine art at the event.
Deadline for entry is June 30, 2013.
Wildlife Painting Workshop with Chad Poppleton:
"Painting the Wild -- Harmonizing Wild Subjects and their Natural Environment"
August 13th -- 16th
$650 ($300 deposit to hold your spot)
Utah-based oil painter Chad Poppleton will be teaching a four-day workshop in Bozeman, Montana on August 13th through 16th, 2013, hosted by Cobalt Moose Art Studios. Throughout the workshop, Chad will provide lectures and painting demonstrations as well as opportunities for individual instruction and group critique sessions.
As part of the workshop, students will have a rare opportunity to attend a six-hour session at "Animals of Montana," a North Bozeman facility specializing in a wide variety of small to large predators specifically trained as animal actors for film and photography. Students will view and photograph a variety of animals in a controlled, natural setting while Chad explains how to interpret each species' structure and form in a painting.
Maximum Attendance: 15 Students (Spaces are filling up quickly!)
Special Event - Saturday Morning Mimosa Brunch & Painting Demonstration with Chad Poppleton:
Join us for a continental breakfast and interactive painting demonstration, from 9am -- Noon, on the studio grounds along the East Gallatin River.
Saturday, August 17th, 9am - Noon
Cost: $40 ($35 for Workshop Attendees)
Art on the Lawn Art Social:
Saturday, August 17th, 4pm -- 8pm
Free and Open to the Public
Art Social: A fine art show and sale featuring the work of several local and regional "Artists to Watch" and this year's guest artist, Chad Poppleton. Enjoy the river-side grounds and view fine art ranging from landscape to figurative to wildlife, while meeting and socializing with the featured artists.
Fine Art Silent Auction to Benefit High School Scholarship: All featured Art on the Lawn artists will participate in a silent auction. 50% of the proceeds will go directly to the recipient of the High School Scholarship, and the remaining 50% will go to the artist.
Scholarship Student Finalist Exhibition: All five finalists for our High School Art Scholarship will have the opportunity to attend and display their work, and the winner will be announced at the event.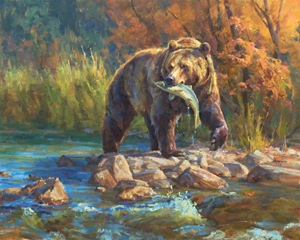 "The Grand Prize" 24" x 30"
by Chad Poppleton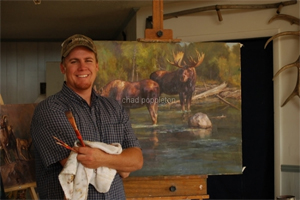 See more online at:
www.ChadPoppleton.com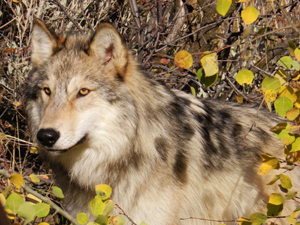 Image courtesy of Animals of Montana