Nomination for excellent product design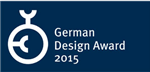 We are proud to announce that Cascando has been nominated for the German Design Award 2015 with its modular seating solution Team. Team stands out thanks to its outstanding functionality and is an integrated system that can be used for sitting, meeting, informing and working. The jury described the concept, developed by designer Peter van de Water, as "a product that contributes in an innovative way to the flexible and functional furnishing of meeting rooms".



Modular seating solution Team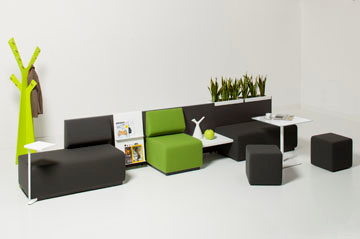 Modular thinking - every space is unique

Every space is unique, which means that meeting areas need to be customised. Team's secret lies in a smart choice of basic elements, which can be combined like 'building blocks'. This makes it easy to create a 'room within a room'. Thanks to this flexibility, interior designers can tailor the layout so it fits in perfectly with the atmosphere and function they have in mind.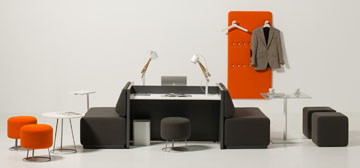 Focus on privacy, comfort and function

Team's outstanding functionality is expressed in the way that sitting, meeting, informing and working are integrated. By combining functional panels, seating elements and accessories (brochure holders, plant holders, etc.), it is possible to create an open office environment that is perfectly tailored to the space, but also takes the privacy and comfort of the user into account. With a single system you can realise a welcoming reception area, a temporary workstation and an informal meeting space.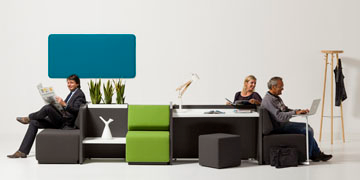 Peter van de Water (designer):

"The concept is based on the idea of seats along a wall, but in an open space. The seating elements are linked by panels that give a feeling of protection and are also functional."



Frenk van den Braak (product manager):

"We immediately embraced Peter's design, as it fits in with our idea that spaces function as social meeting areas. Team enriches the environment and enhances the connections within it. In addition to the design, we also paid a great deal of attention to the comfort of the seating."



German Design Award and nomination procedure



For over 60 years the German Design Award has been recognising products that are examples of innovative and sustainable design and also make a contribution to the design industry. This alone makes it an honour to be nominated by the professional specialist jury. For the nomination of the jury on 31 July 2014, we have decided to make use of new materials. This expansion of the collection will be presented for the first time at the Orgatec trade fair in October.