Seasons Greetings!

Many times a week I receive heartfelt emails from people who are reclaiming their lives through neuroplasticity. Many of these folks have suffered for over twenty years with conditions like Chemical Sensitivities, Chronic Fatigue Syndrome and Fibromyalgia, just to name a few. These transformational stories of recovery are sometimes difficult to believe, especially for those who are still suffering from limbic system impairments. Sometimes they are afraid to have hope for recovery as they tried so many unsuccessful treatments in the past and don't want to be disappointed again. Some may be waiting to see what the long terms effects of retraining are, wondering if the benefits will last.


With Christmas just around the corner, I would like to take this opportunity to restore some hope and inspire dreams once again. With this in mind, I hope that this story of recovery touches your heart as it did mine.
The following story is about Gloria from Texas, who took the Dynamic Neural Retraining System program just one year ago. Gloria writes:
"The nightmare began in 2003. Unbeknown to me, there was mold at the school where I taught. Shortly thereafter, unexplained headaches turned into migraines. Symptoms gradually got worse and five years later, I was having seizures and stroke-like symptoms. I became allergic to all but 18 foods. When I would eat foods I had become allergic to, it would result in a mysterious paralysis!
My quest to determine what was causing the strange and bizarre symptoms was actually the beginning of an experience that was like something out of a science fiction movie. Fifty-two (Yes, 52!) doctors including general practitioners, chiropractors, allergists, neurologists, and specialists in gastrointestinal, hormone, thyroid, etc., were all unable to determine the cause of my strange illness. My successful teaching career came to an abrupt halt. The diagnosis from Doctor # 53 was toxic encephalopathy.

By October 2007, I had become a wheelchair-bound invalid. It was at this point, that my husband and I realized that I was most likely going to die, and that the death certificate would read "cause unknown". After a ten-hour seizure that was triggered by a glass cleaner, local emergency room doctors confirmed our worst fear. If I were to survive they said "the risk of brain damage would be high". Their somber advice to my husband was "get her affairs in order".
By now, small concentrations of mold, perfume, cologne, chlorine, and the blue cleaner used in restaurants caused seizures or loss of motor skills, and would result in paralysis that would last up to 2 days; a cycle that repeated itself hundreds of times over the past 10 years.
Seventy-five different types of therapies later, I was still reacting!
When I looked at Annie Hopper's website, the claims sounded too good to be true; but at that point in my healing journey I really didn't have too much to lose. When the limbic system has maladapted, whether you are the victim of Multiple Chemical Sensitivity, Fibromyalgia, Chronic Fatigue, matters not. My limbic system had truly become my autopilot, running faulty programming and holding me hostage--unbeknownst to me.
Thankfully that all stopped when I implemented the neuroplasticity tools that I learned in the Dynamic Neural Retraining System. Neuroplasticity truly is a new paradigm and I can barely believe that I have not only recovered, but am now engaging in life fully, with energy and in good health.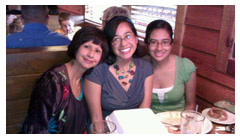 A couple of months ago I even attended my daughter's graduation ceremony, which I miraculously did with ease. Our other two daughters, who live away from home as well, were also in attendance.
After sharing a beautiful lunch the following day we said our goodbyes to our three lovely daughters. And as they drove away I started to cry. I cried because our life as we knew it has forever changed. Our daughters are grown up and moved away. But what is most dramatic and memorable however is that I am no longer a prisoner of Multiple Chemical Sensitivity, Fibromyalgia and Chronic Fatigue."
Of course, we are more than thrilled for Gloria and her family, and most of all; excited that her story will give others hope as well. One person can truly touch the lives of many.
With this in mind, our wish for you this holiday season is to give you or someone you know the gift of good health.

Dynamic Neural Retraining System™ patient program series in the U.S. and Canada for 2013:

Victoria BC January 25 - 27 (3 day program)

San Francisco Mar 1 - March 3 (3 day )
Santa Fe NM April 18 - 22 (5 day Retreat )

Campbell River BC May 22 - 26 (5 day Retreat )
New York July 8 - 12 (5 day Retreat )

Kelowna BC Sept 19 - 23 (5 day Retreat)

Florida November 14 - 18 (5 day Retreat)
If you would like to experience recovery for yourself, please join us in 2013 to start to reclaim your life. To start the registration process for an upcoming program, please click here.

Or if you know someone who is suffering that cannot attend a program due to illness restrictions, please click here to purchase the DNRS 14 hour instructional DVD series.

LATEST NEWS
We are now on Facebook! Join us in our newly created Facebook page. This page is for both DNRS graduates and the general public alike. Click here to go to our Dynamic Neural Retraining System page.

New for 2013 - DNRS 5 Day Neural Rehab Retreat Program. Our five-day Retreat allows for complete neuroplasticity immersion within a small group, provides environmental friendly accommodations and all meals - all in one location. This allows for maximum focus in a distraction-free environment along with direct and immediate access to a Certified DNRS Facilitator.

Venues are selected for environmental awareness to provide comfort for those suffering. The in-person seminar involves a complete immersion in the program and often patients will notice improvements within this time. The powerful group dynamic provides both inspiration and the motivation needed to kick start the recovery process. Having direct access to DNRS Facilitators allows for more individual instruction, allows the patient the opportunity to have their questions answered, and foster the discipline that is required for best results.

On behalf of everyone at DNRS, we wish you all the very best this holiday season.

Much love and blessings,
Annie Hopper and the DNRS Team
website: www.dnrsystem.com

email: info@dnrsystem.com
To view past newsletters: http://dnrsystem.com/newsletter_031611.html