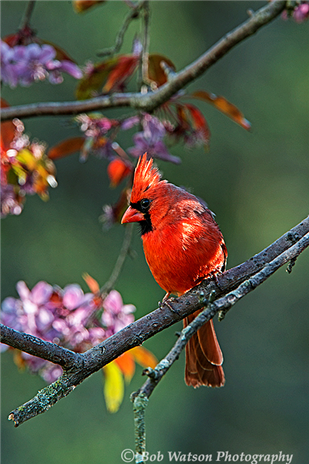 Male North American Cardinal
For many it's been an "old fashion winter" with lots of snow and sub zero temperatures. When writing this month's Newsletter in Northern Indiana, I was just starting to see a few welcomed signs of spring. Although the North American Cardinal ("the Cardinal") isn't a migratory bird, and therefore not a 1st sign of spring, I thought this month's Featured Photographs of this beautiful song bird in flowering trees would provide a clear picture of what's to come.
The North American Cardinal (often called the Common Cardinal and sometimes referred to as the redbird) is found in southern Canada, throughout the eastern United States from Maine to Texas and south through Mexico. No matter where you live, the Cardinal is one of the most recognizable birds. Both the male and female have a distinctive crest on their heads and a mask on their face. Their popularity is evidenced by seven states having named them as their official state bird.
Although the male is vibrant red, and pretty much stays that way year-round, the female also has beautiful color markings.
Some Interesting Facts and Observations:
1) The color of both the male and female is key to finding a mate - - the brighter, the more success.
2) A pair of Cardinals has a clutch of 3 to 4 eggs and has from 2 to 4 clutches each year.
3) Their name comes from the cardinals of the Roman Catholic Church who wear distinctive robes and caps.
4) The Cardinal is a territorial bird marking its territory with its songs. Its songs are learned and are not necessarily the same from one region to the next.
5) The oldest banded Cardinal in the wild was known to live 15 years and 9 months.
6) Although you will see Cardinals feeding throughout the day, they're one of the first birds feeding in the morning and last birds feeding at night.
Featured Photograph No. 2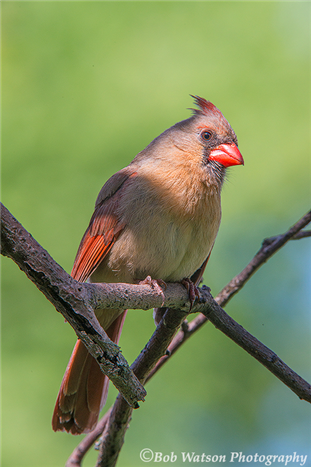 Female North American Cardinal
By clicking on either size below

, you may securely purchase these "Featured Photographs" through

Paypal

with your credit card or your own

Paypal

account. $8 dollars will be added for shipping. Satisfaction for all prints ordered is guaranteed or your money will be refunded.
Featured Photograph No. 1A - 8 x 12 = $35
Featured Photograph No. 1B - 12 x 18 = $65
Featured Photograph No. 1C - 16 x 24 = $115
Featured Photograph No. 1D - 20 x 30 = $145
Featured Photograph No. 2A - 8 x 12 = $35
Featured Photograph No. 2B - 12 x 18 = $65
Featured Photograph No. 2C - 16 x 24 = $115
Featured Photograph No. 2D - 20 x 30 = $145
Larger sizes are also available at similar discount pricing. Please email me to inquire about larger sizes that may interest you.
These photographs will remain as "Featured Photographs" available for special pricing until you receive another newsletter.
_______________________________

I invite you to visit my website at BobWatsonPhotography.com. My more recent photographs may be seen in my New Images section.

If you have any questions (i.e., additional description, special sizes, print paper, etc.) about the Featured Photograph or any photographs on my website, please email me. Don't hesitate to email me; if just to say Hi.

When or if you ever change email addresses, please go to the "Home Page" of my website and subscribe using your new email address. Alternatively, just let me know of any email address changes.

I continue to receive new subscribers to my Newsletter. Many of them come from you forwarding my Newsletter to your friends and family that you think may be interested. For this, I heartily thank you. Please continue. Anyone wishing to subscribe to my Newsletter should go to my " Home Page ". You can also just email me with their first and last name and their email address.

Thanks for letting me share my photography with you.