Treating Yourself To A Retreat
I began October focused on writing the

Princess Shayna's Invisible Visible Gift Teacher's Activity Guide

. I decided to use our Annual Fall Color Motorcycle Trip to Door County, Wisconsin as my Writer's Retreat at Eagle Harbor Inn, which is our comfortable and cozy home away from home.

My

Yellow Brain

kept to my schedule of writing each morning.




My

Blue Brain

relaxed and took care of myself by taking yoga
My

Green Brain

was technically and spatially challenged as I learned how to use the

CreateSpace template to design the Teacher's Activity Guide.

Developing all the page

margins, resizing and adding illustrations and photos, making worksheets into JPEGs, and moving pages within the document.


My

Orange Brain

enjoyed the spectacular peak fall colors throughout the Door County Peninsula on our afternoon motorcycle rides.

I am most grateful for all expert knowledge about CreateSpace and generous assistance I received from Megg Jensen and Barbara Gregorich, who are two extraordinary authors and fellow members of the Illinois Society of Children's Book Writers and Illustrators.

My Yellow Brain timeline goal is to completed the guide by the end of October. Then, edits will needed to make the guide ready for publication.

When the guide is complete and published, I will begin a new business book project that will offer readers timely and time tested effective leadership and successful teamwork strategies.

My

Blue Creative Brain

knows I need to be use my Green Focused Brain to complete my book projects. That is why, for the next few months, I will be periodically hanging out my "Gone Writing" sign.

I would encourage you to think about posting your GONE Fishing, Writing, Relaxing, Gardening, Skiing, Hiking, Vacationing... Sign and

Treating Yourself To A Retreat

to accomplish your
Y

ellow Brain Goals

or

Tasks!



A Halloween Sliver Sparkle

Trick

and

Treat



The leaves are falling, there is a chill in the air, and I have an amazing

Trick

for keeping your skin moisturized and your hair shiny.



Two years ago this month, I made a huge healthy life changing decision!

Because of my complicated food allergies, I decided to detox my body. I realized that it did not make sense to keep putting chemicals on my head to keep to remain a redhead. My strawberry blonde hair was always my "crowning glory" and a beautiful gift from my mother, aunt and grandmother who all had different shades of red hair.



My husband and I were in Door County, Wisconsin for our Annual Fall Motorcycle Trip, and I stopped into the On Deck clothing store in Sturgeon Bay to see their lovely

sweater

selection.

Jane Wineinger, a stunning saleswoman with a crown of amazing silver sparkling hair, asked me if I needed any help.
As I looked at the sweaters,

we began chatting, and I couldn't resist complimenting Jane about her sparkling silver hair. Then to my surprise, Jane told me she had once been a strawberry blonde. I was shocked! I had always been told that strawberry blondes never have pretty silver sparkles, they have ugly yellow/gray hair. I found a terrific sweater and best of all, kindred spirit encouragement from Jane to complete my detox by not coloring my hair. Then came the bonus... Jane shared her silver sparkles secret... Coconut Oil!

The

Trick

is to smooth the coconut oil over your body while your skin is still moist, after a bath or shower. The

Treat

is rubbing the Coconut Oil that remains on your hands through your hair. As Princess Shayna would say, "Rimsiyavo...Silver Sparkles and Soft Sweet Smelling Skin." No worries, the coconut aroma fades quickly. There also are many other interesting benefits to using Coconut Oil.


Jane and I have fun staying in touch and referring to ourselves the "Silver Sparkles Sisters"!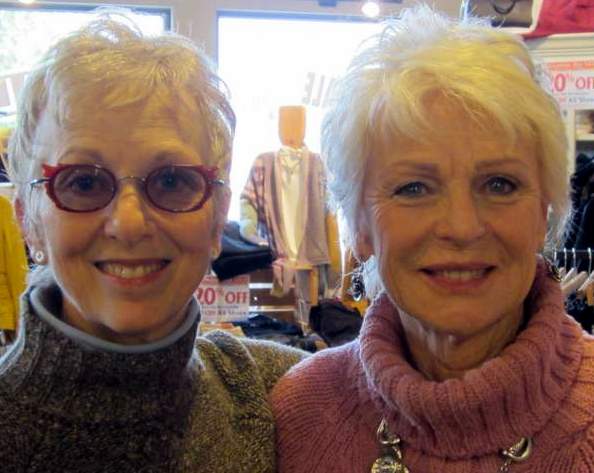 My

Blue Brain

always likes to include poetry in my program. For the program on Wednesday evening, I included one of my favorite poems, There Were Three Men. Many years ago my friend Jewel Manzay shared the following anonymous poem with me. However, I changed the poem to There Were Three Women because I knew all the attendees were women.

This poignant poem always resonates with program attendees because it encourages people to think about the journey they are on and how their Brain Colors influence their lives.

There Were Three Women
And there were three women went down the road,
As down the road went she.
The woman they saw
The woman she was
And the woman she wanted to be.








I trust you have enjoyed this

Trick

and

Treat

October BrainBuzz Newsletter.

Please note. All though I will be periodically handing out my "Gone Writing" Sign, I will be presenting programs and available to discuss and schedule future What Color Is Your Brain? Programs.


Please, call me at 847.526.9039 or email me at snglazov@comcast.net for information and/or assistance.


To subscribe for your monthly BrainBuzz Newsletter and my Blog posts scroll up to the top of the page and click on the appropriate links. You can also share this BrainBuzz by using the links at the bottom of this newsletter.