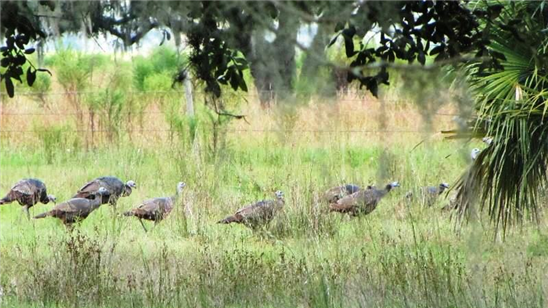 Florida Wild Turkey
The Florida wild turkey, also referred to as the Osceola, is found only on the peninsula of Florida. This particular subspecies was first described in 1890 by W.E.D. Scott who named it for the famous Seminole Chief, Osceola, who led his tribe against the Americans in a 20-year war beginning in 1835.
For a lot of turkey hunters trying to complete a "Grand Slam", there are a few other definitions of the Osceola that we can't print here. It can be tough to find a good, reputable guide to help you in your quest. However, it just so happens we have one of the best in Florida. (Ok, it wasn't just chance, we did a lot of research!)
The ranches on which you will hunt are located in Osceola County near Lake Kissimmee. The landscape is made up of cattle pastures with century old live oak hammocks and cypress swamps. These ranches are operated by fifth generation Florida cowmen and have no hunting pressure.
A typical three day hunt is one on one, with guides who are very knowledgeable turkey hunters. They know the land and the turkeys in the area. The accommodations include clean comfortable cabins. The cabins have a/c, hot showers and satellite televisions. The cabins are in a large oak hammock in the shadows of 150 year old oak trees. They are located in the middle of a 7500 acre ranch eight miles from any paved road. All of your home cooked meals are prepared in an open air kitchen, while you discuss the day's hunts by the campfire.
Blinds and the decoys are provided and your guide will call for you if you like. Once you get your bird, they will prepare your bird for transport home after your hunt. They will also be happy to hook you up with other guides in the area for activities such as airboat tours, fresh and saltwater fishing trips.
Trail Escapes can put you on that Osceola turkey you need to round out that Grand Slam you've been working on.
Part Three
What to Look for: Realistic Expectations and How to Determine What It Should Cost.
This is the third installment in our series on how find and evaluate which lodge, outfitter or charter is best suited for your adventure. We have previously discussed how to do the research and what to look for as far as meals and accommodations are concerned.
This month we will get to the heart of your trip, the hunting or fishing. Before you ever begin the search do an outline to establish what your expectations are. The questions should include things such as;
What type of game?
Ok, that sounds pretty obvious, but what if you want multiple species or several of your group wants to hunt different animals or fish on the same trip? In some states, you are required to participate in a draw for one species, while another species is over the counter. It could be a little embarrassing (not to mention expensive) to show up without the proper licenses and permits. HINT! Most reputable outfitters will make sure you have everything in order.
What are your expectations as far as quality and quantity?
You may not be concerned with how large the horns are or what weight or size or whatever criteria used to define a trophy may be. You may just want to see lots of animals or catch lots of fish. Maybe you're looking for a son or daughter's first deer, duck, elk or whatever. When you talk with an outfitter, make sure you are both on the same page about what defines a trophy or how many fish or game you are hoping for.
What methods do you want to use?
For a hunting trip, do you want to hunt with a firearm or a bow? If it's a fishing trip, are you using a fly rod or casting rod? Do you need your own equipment or does the lodge provide it. For travel to other countries for example, you may not want to go through the hassle of transporting a firearm through customs. In other instances, if you're going to be fly fishing in Alaska, a set of waders adds a lot towards that 50 lb. limit the airlines impose. Many locations will rent equipment for a small fee or include it in the cost of your trip. HINT! If you're going to Argentina to shoot doves, use their guns! Besides the reasons already discussed, after you shoot several thousand shells at those doves, you'll probably need a new barrel for that prized Benelli shotgun.
Are you looking for a fully-guided or semi-guided trip?
A semi-guided trip means they will transport you to and from the stand or blind, while fully-guided means they will in the blind or stand with you. The choice is, of course, up to you as far as which you chose. Bear in mind that fully-guided is usually more expensive and not all locations offer fully-guided.
OK, now that you have an idea of what you're looking for, what can you expect to find out there and what should it cost? Now, let me say something about realistic expectations. First, Trail Escapes does not represent "High Fence" operations. All of our locations are fair chase only. This is not a judgment of what someone may or may not want to choose for themselves. We just aren't comfortable with high fence and made a decision not to go in that direction. Now, having said that, we never tell anyone they are guaranteed to harvest a game animal. IT'S HUNTING AND FISHING! We DO guarantee our outfitters, lodges and charters will do everything in their power to give you the best possible chance of success.
What is a fair and reasonable price?
The prices for hunting and fishing will vary wildly across the U.S. and other countries depending on several factors. The more rare the species, the more you can expect to pay. The Osceola Turkey is only found in limited areas so a hunt in Florida is going to be more expensive than a hunt in Alabama for an Eastern Turkey.
Secondly, the more services offered, the better the accommodations and food, the more it will cost. It's not unreasonable for a lodge to charge more for these things; they have to pay for their costs. (There's a reason a Ferrari cost more than a Chevy.)
Compare prices (there's that research again) in an area and you should be able to establish an average. Remember; use your common sense, if a price seems too good to be true, it probably is. If a location charges $100 a day for food, lodging and guided hunting, RUN AWAY! You should also consider the success rate of the previous couple of years. If you don't see it posted on their site, ask them for references from recent clients!
To sum up, a commercial lodge, outfitter or charter is not magic and can't produce game out of a hat. However, day in and day out, your chances of success are much better than average using a professional.
Ok, in our next newsletter, we will look at what you personally, can do to make your adventure more enjoyable and successful.
Thanks, Dennis