Mexico Fly Fishing for Tarpon
The flats around the island are Mexico's hottest Giant Tarpon fishery, and the talcum powder white beaches, aquamarine waters and wonderful Island vibe take it all over the top. Just 100 miles and one short ferry ride away from the bustling beach town of Cancun, (yet worlds away) this lodge may be the perfect place to leave your "day to day" behind. The Yucatan Peninsula has been one of sport fishing's premier destinations for decades, and now our superb Tarpon fishing has cemented its reputation as a place to add to every traveling angler's "bucket list".
Anglers and guides pursue huge adult Tarpon during the spring, summer and fall months as well as baby Tarpon, Cobia, Sea Trout, Snook, Barracuda and occasionally Permit in the clear gulf waters, endless flats and mangrove lagoons.
Bring your favorite fly rods and flies (we can give you recommendations when you book your trip). Your fishing license is provided by the lodge. If you aren't a fly fisherman, don't worry, you can use a casting rod too.

Each morning of fly fishing will begin as the fishing guide reports the weather conditions- and depending upon his recommendations you and one other angler will head out in classic flats style pangas perfectly suited for our waters.
When wind conditions make casting efforts unproductive, we'll move into the mangrove lagoons where your guide will pole your boats in the ancient manner in search of the healthy resident population of baby Tarpon and Snook. This is the classic flats angling, with marauding packs of Tarpon, Snook and more feeding on crab, baitfish and more. Casting will be at a premium here, though accuracy is usually more important than great distance. While the fish average 5-15 pounds, some 25 -40 pound specimens are caught each year, and every fish brought to hand is a trophy. During the spring and summer months you will head a mile or so offshore to chase the big boys, 100-150 lb class Tarpon.
Upon your return, you'll wash down your rods in the rod cleaning station and perhaps a siesta in the lounges on the beaches edge- or a cold drink as you watch the sun drop into the Gulf. Later, we will have the happy hour beverages and hors d'oeuvres ready for you and the guide as we discuss the day's activity and then plan the schedule for the following morning. Our manager will advise you on the various excellent restaurant options available for you after happy hour.
Food is always an important part of any vacation and the island will not disappoint you. You will be able to watch the daily catch brought in to the beach. The Gulf of Mexico provides superb sea foods that are on the menu at the several nearby restaurants---lobster, shrimp, calamari and the freshest of fish. A continental breakfast at the lodge will begin each day and lunch is served on the boats on fishing days. Happy hour includes signature hors d'oeuvres and all other meals are on your own in the local restaurants a 5 minute walk from the lodge.
Private van and boat transfers from Cancun--an open cerveza bar--coffee to your door wake ups---a golf cart for island exploration and afternoon flats fishing---rod racks and wash down station---complimentary happy hour and Cuban cigars---a fly tying bench---daily activities---signature happy hour hors d'oeuvres---Espresso ---wireless connections and phone communication at a nearby internet cafe--- and---most importantly--- a lodge manager dedicated to the complete success of your vacation."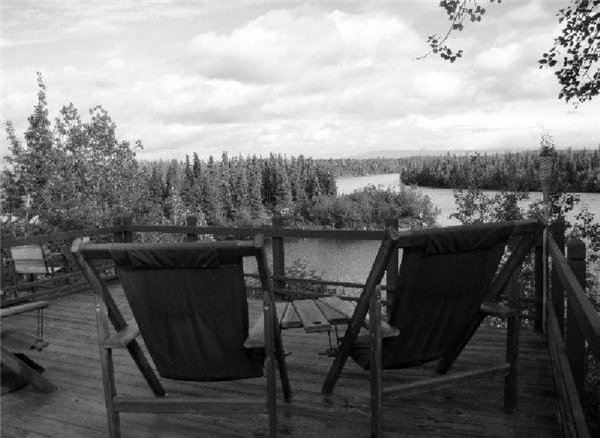 Alaskan Fishing with a Touch of Style
How would you like to fish for Silver Salmon today? Maybe you would like to try for that big Halibut or possibly a fly-out to a remote stream for some fly fishing for trout. Oh, did I mention this is on the beautiful Kenai Peninsula in Alaska? So let's see, great fishing, great scenery, what else could you want? How about a riverfront lodge second to none, with outstanding food, comfortable rooms (you've got your own fireplace in your bedroom), and a staff dedicated to making this a trip you'll never forget. What, you still want more? Ok, how about wildlife watching, moose, bear, whale watching, and glacier tours. After a hard day of what is arguably the best fishing in the world, relax at happy hour before dinner. After dinner, if you're not ready to stop, go cast a fly on the Kenai River for a big salmon.
For 3 decades, both spin and fly anglers from the world over have traveled to this legendary lodge to enjoy some of Alaska's very finest fishing.
All this and more is waiting for you.

---
Choosing the right Lodge
Let's bring it all together.
This is the fifth and last installment of our series on finding a lodge, outfitter or charter. We have previously discussed how to do the research on the various elements of the adventure such as the fish and game themselves, food and accommodations, price, level of service, and your preparation as a client. Now, let's bring it all together and build the adventure.
You've found a great location, the price is acceptable to your wallet, and they have great hunting or fishing. Now what? Well, let's get you packed for the trip. When one of our clients books a trip, we send them a list of things they will need to bring. If you're doing this on your own see if the outfitter can suggest what you should bring, and do a little research (there's that word again) on your own into the weather, terrain and any other criteria you can find.
I think most hunters and fishermen go through the same stages concerning equipment. In the beginning they start with a minimum amount of equipment (usually for financial reasons), and then that pile of stuff in the closet starts to grow. At some point they realize their pack or tackle box weighs as much as they do, so they start to whittle it back down to a manageable level. That is actually not a bad method to use to prepare for hunting or fishing trip. Now, think of anything you might possibly need. Take it out and stack it on the floor. Don't leave out anything! This should give you a VERY large pile of stuff. Once you have something that looks like Santa's Christmas list, start being realistic about it. Do you really need six pairs of camo pants for a three day hunt? Not likely, but you might need four. Four boxes of rifle ammo for an Elk hunt? If so, you haven't practiced enough. Seriously, allow for small emergencies like wet clothes from a sudden downpour, but be realistic. Pack enough but don't include anything you don't really need. NOTE! If you need personal prescription medication, make sure you bring MORE than you need in case you get delayed by weather or other such possibilities.
Ok, your equipment is ready and packed what else? Well, how about cash (to pay for tips) and/or credit cards, checkbook, etc. to pay the lodge, outfitter or charter. Also, if you are going out of the country make sure you have your passport and copies of important documents (kept separate from your wallet) such as birth certificate, driver's license and such, just in case.
Now, you're at the location, what next? Why, you enjoy the experience, right? To make sure that's going to happen, how about a few ground rules. First, listen to your guide. This is what he does for a living. If he tells you the ducks are in the rice and millet fields right now, don't insist on hunting the flooded timber. If he advises you to fish with a certain bait or technique, listen to him. Too often, a client will not listen to his guide and then complain that they didn't catch enough fish, shoot enough ducks or harvest a big enough buck. Their expertise is what you're paying them for, so listen to their advice. Also, if your guide has given you great service, give them a great tip. Usually, tips make up a large percentage of a guides income so take care of them. (Also remember the cook and housekeeper).
When you're at a lodge, there will probably be other hunters or fishermen there also. This is a great opportunity to meet sportsmen from all over the world. Please, conduct yourself courteously and make use of this chance to make new friends. Most of all enjoy yourself and enjoy the whole experience, not just the hunting and fishing. There's a lot more to bring back with you than just a set of antlers or an ice chest full of meat.
While we hope you use our services, I hope this series has given you some insight into what is involved in choosing the best possible destination for your adventure. Trail Escapes uses all these tools and more in our ongoing research of hunting and fishing locations for our clients. Since we are constantly gaining new subscribers to our newsletter, we have added an archive tab on our website. Please visit us at www.trailescapes.com to view our previous newsletters you may have missed. We are also going to put the FAQ's that appeared in this newsletter edition on the website for future reference.
I hope you've had as much fun reading this series as I've had writing it.
Thanks, Dennis
---
FAQ
Why do I need to go through Trail Escapes to book my hunting or fishing trip?
Trail Escapes has done extensive research on every location we represent. We also visit and inspect every location. For every lodge, charter and outfitter you see on our website, there are, on average, a dozen that didn't make the cut. Your trip is too important to risk with a location that has not been through a rigorous inspection.
How much does Trail Escapes charge for this service?
We are paid a commission by the location when we make a booking, so our clients don't pay anything to us for our services.
Are there any exceptions to this?
Yes. We offer several additional services to our clients, for which there is an extra charge. One of these is our Concierge Service, where we provide transportation to and from an airport, a Trail Escapes representative to accompany them throughout the trip to handle sightseeing, extra transportation around the area, and any other assistance not provided by the lodge. Also, Trail Escapes can provide planning, logistical support and execution of large events, such as corporate meetings, sales meetings, group trips and other events at any of our suitable locations.
Since Trail Escapes works on commission, is that a factor in deciding which location they recommend to a client?
No, each client is advised to use a location according to their particular desires and budget. As we interview each client and discuss their needs, we build a custom adventure for them. If there are several locations that fit what they are looking for, we describe each one to the client and the final discussion is, of course, theirs.
How many locations does Trail Escapes represent?
As of May, 2013, we represent close to 100 different hunting and fishing locations worldwide.
Are all the locations on the website?
No. There are some categories such as species and location where we have several venues that are very similar. Rather than show virtually the same information over and over, we show several representative locations on a rotating basis. However, when determining a location for a client's adventure, we consider every location in our inventory. Also, we have several locations that service corporate clients only and by agreement, we can't show them on our website.
Does Trail Escapes book "high-fence" hunts?
No.
Am I guaranteed to catch fish or harvest a game animal?
No, all of our locations are "fair chase". This is real hunting and fishing. However, each of our guides, outfitters and charter captains will do their utmost to provide the best possible opportunity for you to succeed. They can't control the weather or the movement of fish and game, but they will do their best to give you the greatest experience possible, no matter what.
How do I pay for my trip?
In most cases, a 50% deposit is required within two weeks of booking the trip. Unless otherwise stated, the balance is due three weeks before the start date of the trip. You can pay by check, cash or credit card. A 3% fee is added for credit cards. We also have arrangements in place with a 3rd party institution to provide financing for trips if needed.
I want to purchase an adventure as a gift for someone but I don't know exactly what they would want to do. Is there a way to do that?
Yes, we offer gift certificates for our clients. We can advise what types of trips work within your budget.
I see that Trail Escapes has a monthly e-newsletter. Why should I enroll in that?
The newsletter keeps our clients informed about upcoming trips and events. There are articles about various topics in the hunting and fishing world. Also, from time to time we get special offers from our lodges and outfitters. These specials are advertised only on our newsletter or by an email "blast" to our subscribers. There is no charge for the newsletter and we never allow our email list to be bought or used for any other purpose.