September Insider Tip: How to Solve Your Document Management Issues
Are you considering a move to Worldox or another costly document solution?

If your law firm is struggling to manage its electronic documents, then we encourage you to take a look at the "Document Manager" feature, which is already built into your AdvantageLaw software program.

Why spend additional time and money on a new system, when AdvantageLaw already provides an excellent way to store, manage and retrieve documents in the secure enviroment of your law firm?

With our Document Management you can:

link to documents anywhere on your system

include emails in the document library


allow global access to all indexed files

create file profiles for each document containing keywords for searching, author designation, priority level, subject matter, etc.

The best part is that there is absolutely no
need to move files from your current structure for indexing! Here is a sample screen within AdvantageLaw: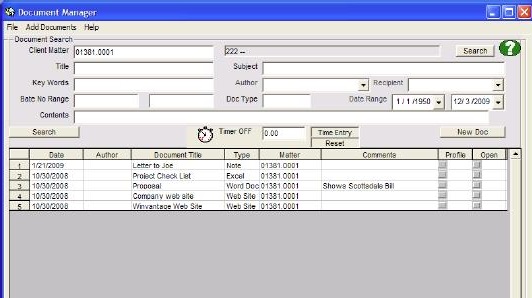 Our Help Desk is ready to assist customers from 8am - 5pm MT.
To check your status or to renew your annual contract with AdvantageLaw Software, email support@advantagelaw.com
For pricing information please visit
here
.