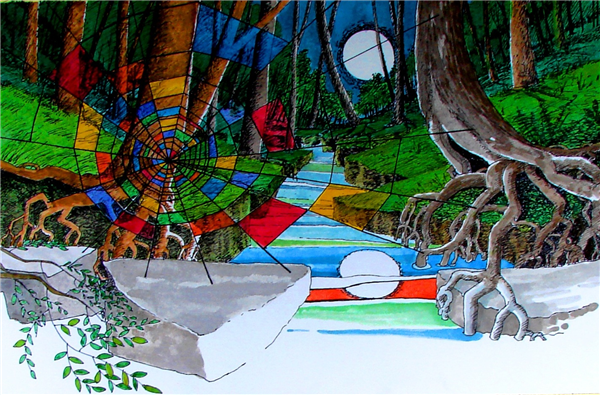 We are having a lot of fun preparing the latest incarnation of our midsummer performative walk-in-the-woods and farm-fresh feast for y'all and we're excited to be sharing it with an intimate group of friends, family & community in just a few days. Give thanks!
There are still a handful of reservations left, so if you would like to join us or would like to encourage others to come along, please make those reservations now so we can plan accordingly for feeding you & yours abundantly on Saturday. Follow the link below to let us know you're coming:
July 25 Reservations for a midsummer's evening of Land, Water, Food, Story:
For those of you who have already made reservations, here are some requests:
Costume & Shoes: You are encouraged to join in the midsummer magic with your own woodlands-inspired costumes and masks. Be sure to wear shoes that will be comfortable for walking in semi-rugged terrain....and for late-night dancing under the stars!
Arrival & Closure: Please plan to arrive on site at the Clear Creek Festival Grounds by 7 p.m. on Saturday. The walking performance and meal will begin shortly after that time as the sun "sets" over the ridge here on the Creek. The performance and meals will last 2 to 3 hours with music & merriment to follow up through midnight for those inclined to join us by moonlight.
Mobility & Dietary Requests: We will be on uneven ground along a wooded path and will do our best to accommodate any mobility requests -- please be sure to let us know at info@clearcreekfest.org if you may need support. As for the delicious local harvest we'll be serving up, we will make every effort to let you know what's what before it's served so you can choose to enjoy accordingly and our intention is for the feast to be as accessible to multiple dietary regimes as possible.
Special Beverages: Beer and wine will be available, so please bring some extra cash to donate if you intend to partake in the local brews.
It's going to be a beautiful evening and we're so excited to explore, honor and celebrate the Land, Water, Food & Story of this place with you.
Remember to make your reservation now if you haven't already and we look forward to being with many of you this Saturday!
Carrie, Bob & the Clear Creek crew

MANY THANKS
to
Alternate ROOTS, the Chorus Foundation
and the
Kentucky Foundation for Women
as well as friends like
MACED
and
Sunflower Sundries
that have provided generous grants, sponsorships, technical support and discounts to help subsidize Clear Creek's creative work in recent years and keep ticket prices as affordable as we can possibly make them. If you, your organization or business is
interested in making a sponsorship
or donation to support this year's events,
we will put it to very good use --
please contact us at
info@clearcreekfest.org
. Cash contributions or donations of goods or services are great ways to support. Thank you for considering!