MAN'S CRICKET SWEATER
Fall 2013 Unofficial Downton Abbey Knits
IT IS GOOD TO BE BACK!
After laying low for quite a while, I'm coming back! I lost my email list, but I'm slowly getting it back, and with it my desire to communicate what's new in ModeKnit-land!
I may have seemed MIA, but I was actually working on over 20 new knit and crochet designs that will be featured in a variety of magazines & websites this Fall! Whew!

You are going to be seeing me all over the place!

I also have some AMAZING new projects on the needles and in the works - I cannot wait to share them with you (and I will!)
Stay Tuned!
Annie Modesitt
MEN'S QUARTET
The Knitter (UK) Magazine, Winter 2013, Issue 64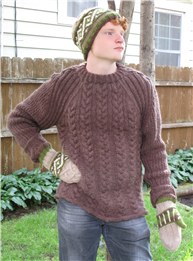 I'm SO proud of my latest book - it's received extraordinary reviews and would make an exceptional holiday gift (if you're thinking that far ahead...)

Check it out and order it here! $26.95 Paper Back, $16.95 pdf ebook!