Design Highs and Lows
Our latest project started as what we would call a "Design Low". Our clients purchased the residence as their second home, and the previous owners had left it in an era from a couple of decades ago. Boring porcelain tile, heavy brown walls, and very dated cabinetry decorated the space. That's when we were hired! Our clients had a modern rustic taste which guided all of our design choices. The porcelain tiles were replaced with chic 20" x 20" travertine tiles and the domineering walls received a much lighter and sophisticated coat in Sherwin Williams color "Biscuit". Specialty colors were selected for the Master Bedroom and one Guest Room in Dunn Edwards colors "Cookie Dough" and "Sparkling Frost".
In the Family Room, the overbearing and angular fireplace was cleaned up with an entirely new facade of minimalistic architectural lines which completely opened the room to its current modern look. A traditional wing-back style chair as well as dining chairs also succumb to the feel after being reupholstered in whimsical and contemporary Pindler and Pindler fabrics. Colorful pillows dot the sofa to complete the picture.
Next, in the Living Room, we did our best to utilize existing pieces that came with the house while adding new and fun pieces that all worked together. Our client actually picked out the playful patchwork sofa on her own and it became the driving force in all the additional selections. Luckily, she had a nice collection of artwork and accessories that we were able to incorporate without having to purchase new.
On to the directing headquarters of the house, the Master Bedroom. We began its design evolution with the existing bed frame and pendant light. Serene Calvin Klein bedding in soothing shades of celadon green create a lulling effect for peaceful sleep, while the warm splashes of fucshia pink are just enough to keep the room awake. The same color combo was used in the Master Bath, which probably underwent the most transformation of the whole house. The old shower was entirely renovated in refreshingly contemporary 8" x 20" tiles in a bark like pattern with plumbing fixtures that have all the bells and whistles our modern day has to offer. The unnecessary tub was eliminated, turning the nook into a sitting and dressing area with custom cabinetry and cushions that provide extra storage space. New vanities were designed and topped with handsome slabs of Monte Cristo granite from Arizona Tile.
Both guest bedrooms became their own little sanctuaries for guests to unwind and relax. In the first guestroom, we designed a custom duo headboard for two twin beds to maximize sleeping accommodations. The second guestroom has a more mature look and offers guests a comfy king sized bed with furniture that has an urban rustic charm. Both baths received mini makeovers with new custom cabinetry, counter-tops, and travertine flooring all from local vendors.
Our favorite jewel of the home (see "Turning a New Leaf" e-mail blast from a long time ago!)..... was one of the first completed spaces of the home and definitely takes the design cake.
Now we can finally see the forest for the trees, and oh my goodness, this concluded project is truly what we would call a "Design High".
Before and After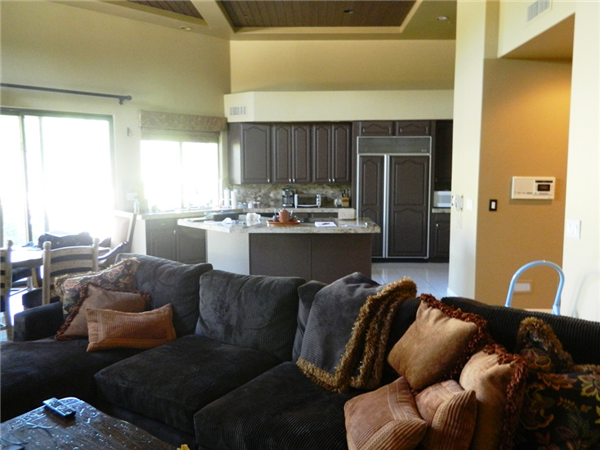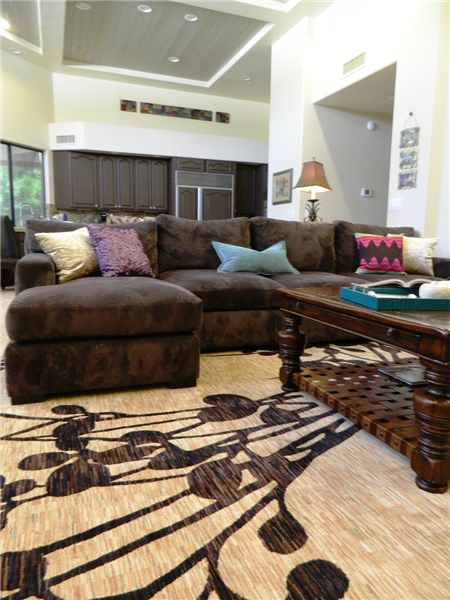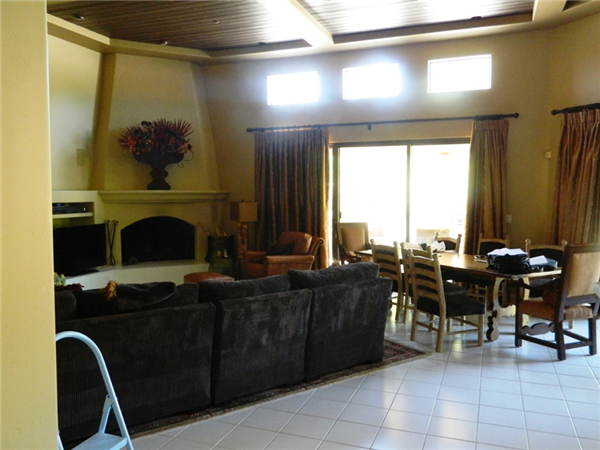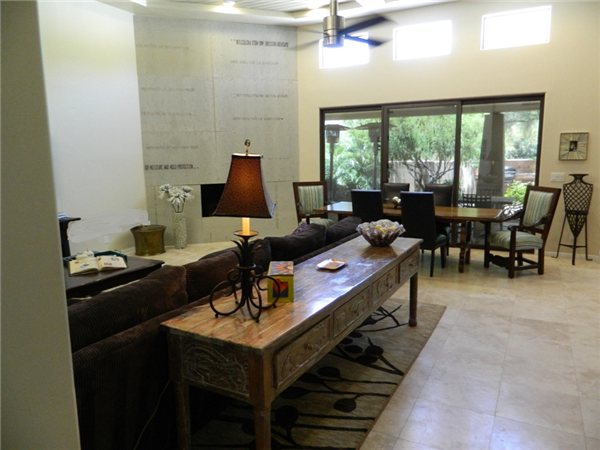 *fireplace awaiting finishing touches