Victims of Communism Memorial Foundation Marks 20th Anniversary
The Victims of Communism Memorial Foundation (VOC) on June 11 hosted a day of commemorative and celebratory events. This was a record-breaking year for embassies represented, wreaths laid, and guests in attendance at the ceremony, luncheon, panel discussion, and Capitol View Reception.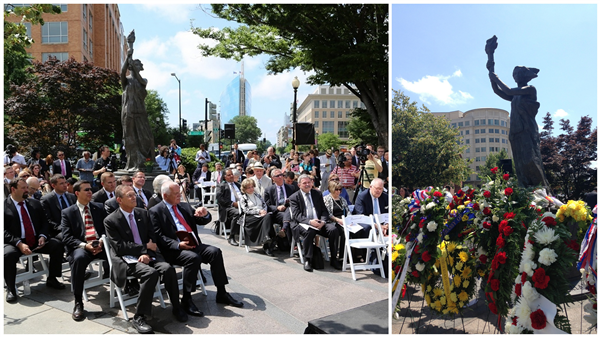 The VOC celebrated its 20th year, seven years since the opening of its Capitol Hill memorial to the Victims of Communism, and 25 years since the fall of the Berlin Wall. In addition, the foundation awarded its highest honor, the Truman-Reagan Medal of Freedom to Ukrainian human rights advocate and former political prisoner Myroslav Marynovych. Distinguished guests – including Members of Congress, human rights leaders, Ambassadors from roughly 20 countries, and survivors of communist regimes – gathered for the occasion.
June 11 recap available here: victimsofcommunism.org/june-11-recap-2/
Baltic Representatives Participate at June 11th Memorial Events


All the three Baltic countries - Latvia, Estonia and Lithuania - and communities were well represented during the June 11 Victims of Communism Memorial Foundation's commemorative events.
Officials from three Embassies participated during the wreath-laying ceremony, including Estonian Ambassador Marina Kaljurand, Lithuanian Ambassador Žygimantas Pavilionis, and Latvian Deputy Chief of Mission Jurijs Pogrebnaks. In addition, the Chairman of the World Federation of Free Latvians, Janis Kukainis, participated during the ceremony.
The Baltic-American communities and the Baltic governments have strongly supported the building of the Memorial in Washington, DC to the Victims of Communism, and have actively participated during remembrance events there over the years. JBANC Managing Director Karl Altau is a board director of the Foundation.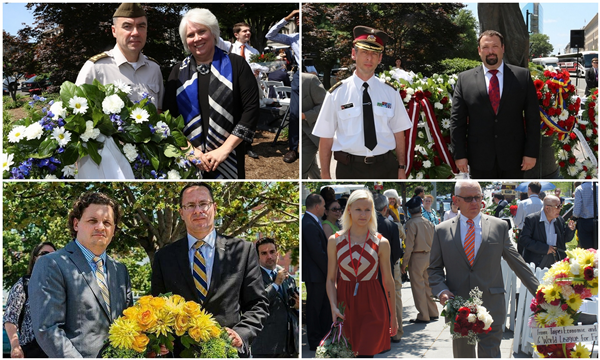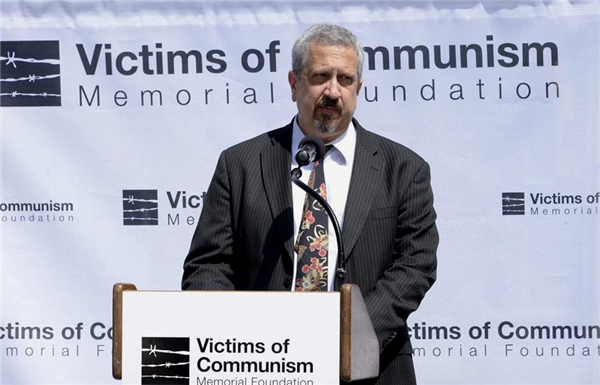 Due to other duties, Baltic Caucus Co-chairman Congressman John Shimkus (R-IL) was not able to attend the June 11 events. His remarks were read by JBANC's Karl Altau.


Read remarks and watch video here:
jbanc.org/?page=blog&v=3&id=21
More June 11 pictures:
www.flickr.com/photos/114460987@N06/sets/72157645143325904/
Cumberland celebrates Maryland-Estonia Sister City program success

On June 19, the City of Cumberland Maryland hosted a reception to celebrate their one-year partnership with the Estonian city of Viljandi. To mark the occasion, an exhibit by Estonian artist Pusa (Piret Bergmann), was displayed at Cumberland's City Hall. Officials from the City of Cumberland, including Mayor Brian Grim, were on hand to welcome guests and to help commemorate the occasion.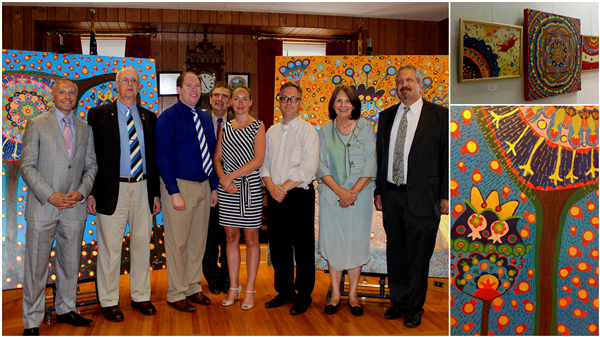 Cumberland and Viljandi agreed, in their June 2013 signing via Skype, to mutually explore opportunities to raise cross-cultural awareness and seek beneficial areas of cooperation.

The relationship between Cumberland and Viljandi was initiated through Maryland's Sister State program with Estonia. Interlocutors with the Maryland Estonia Exchange Council (MEEC) have supported the program and the Joint Baltic American National Committee, Inc. (JBANC) has worked in close collaboration with MEEC in furthering ties between Maryland and Estonia.

Read more about this event and the state partnership here: jbanc.org/?page=blog&v=4&id=35

See the event in pictures: www.flickr.com/photos/114460987@N06/sets/72157645370131362/

TAKE ACTION TODAY against French Mistral sale!
JBANC's compatriots in California, the Baltic American Freedom League (BAFL), have issued a call to action to stop French Mistral sale. BAFL Acting President Valdis Pavlovskis states that "the sale of the Mistral warships to Russia presents a threatening and dangerous situation to the Baltic countries and Russia's other maritime neighbours."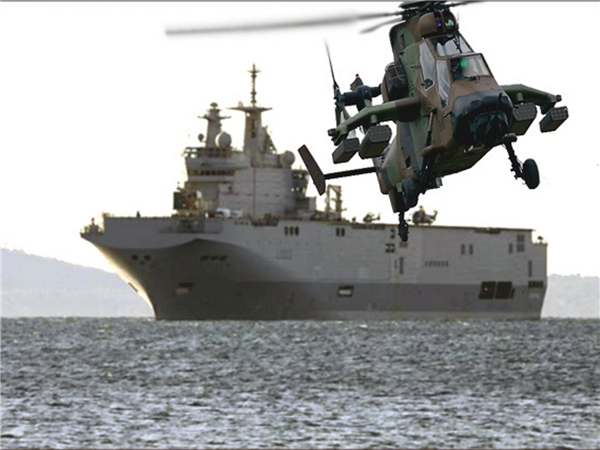 As it stands now, the situation looks bleak. The chance that the ships will not be delivered are well below fifty-fifty. But this does not mean that we should not try to change the odds. BAFL hopes that you will join the effort and do your part to stop Russian warships from patrolling the Baltic Sea.
Detailed information and instructions here: http://www.jbanc.org/?page=blog&v=2&id=62

Ever since the French intention to sell Mistral warships to Russia became known in 2011, the Baltic American communities have opposed the sale.

More about BAFL: www.BAFL.com

Letter to European democratic governments and institutions:
"Democracy in Europe is in Danger!"
JBANC, as a member organization of the Platform of European Memory and Conscience (PEMC), commends the June 23 letter of PEMC President Göran Lindblad urging European institutions to heed the wake-up call of Russian aggression against Ukraine and to take action with regards to the growing democracy crisis in Europe.


"The Russian aggression in Ukraine must be the wake-up call which the attack on Georgia in 2008 failed to be. Particularly the fate of the Crimean Tatars who are now again subjected to persecution and discrimination in occupied Crimea calls for international attention and solidarity action," stresses the PEMC President in his letter.
The letter was sent to the 28 European Union member states, European Commission, European Parliament, President of the EU Council and to the Council of Europe.
The Platform of European Memory and Conscience represents 42 institutions and organizations from 18 countries in Europe and North America dealing with issues related to Europe's totalitarian past.
Read the full letter:
www.memoryandconscience.eu/2014/06/26/democracy-is-in-a-crisis-platform-letter-to-eu-governments-and-european-democratic-institutions/

The Joint Baltic American National Committee, Inc. (JBANC) is a non-profit organization that monitors issues affecting Baltic-American communities in the United States and the nations of Estonia, Latvia and Lithuania. JBANC helps to coordinate Baltic-American activities in Washington, DC with the U.S. Congress, administration, NGO's and other groups.
OTHER INFO:
The documentary film about Belarus Free Theatre "Dangerous Acts Starring in the Unstable Elements of Belarus" will debut on HBO on July 7.

Watch trailer here: www.youtube.com/watch?v=LGALySJ3O24
---
---
CONTACT US:
---
JBANC represents:
Estonian American National Council, Inc., (http://www.estosite.org/)
American Latvian Association, Inc., (http://www.alausa.org/en/)
Lithuanian American Council, Inc.
(http://altcenter.org)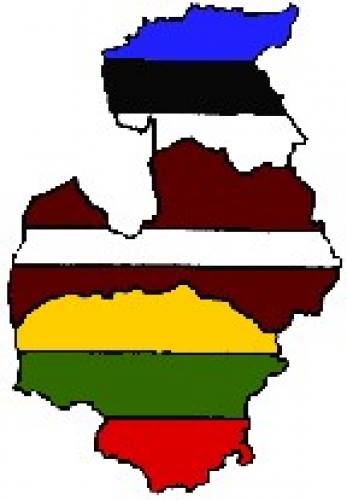 ---