New Release Book

Download under the Free Read section of my website at http://sesmithfl.com/FREE_Reads.html




For The Love of Tia
I released my first short story with "For The Love of Tia" and I'm thrilled to be able to share the stories of characters that are in my books or other stories that just demand to be told! I hope you enjoy them and share them with your friends!

Synopsis

Tia is the Keeper of the Stories for the inhabitants of Glitter in the Kingdom in the Caverns. She dreams of a life she knows will never come true for her; life outside of the caverns for her people and a mate for herself. Hope for her people blossoms when an unknown creature is captured at the entrance to their kingdom even as her dream of a mate becomes even more impossible.
Many generations ago, her world was invaded by giant alien beings who took the precious animals that gave life to their world. Now harsh sand covers it, leaving it barren on top. Tia recognizes the captured female as the golden haired goddess the legends spoke of that would renew their world once again.
Jett is the youngest royal son of the King from the Kingdom of the Sands. His thirst for adventure leads him to an unknown cavern where an unusual Kingdom exists. He is captivated by the slender, delicate female he discovers. Unable to resist, he returns again and again until he knows he must steal her away.
Unbeknownst to Jett, Tia is dying. When he steals her away from her world he expects to claim her as his bride. Now, he must make the ultimate sacrifice if she is to survive. He knows one thing for certain; he would do anything for the love of Tia.
Can two hearts beat as one? Or will one life have to be sacrificed to save another…..

Click here to download For The Love of Tia
****If you need the .mobi format for Kindle just send me an email and I'll email it to you. Unfortunately, I never could get the file to upload correctly to my website but I can send it to you.

Upcoming Books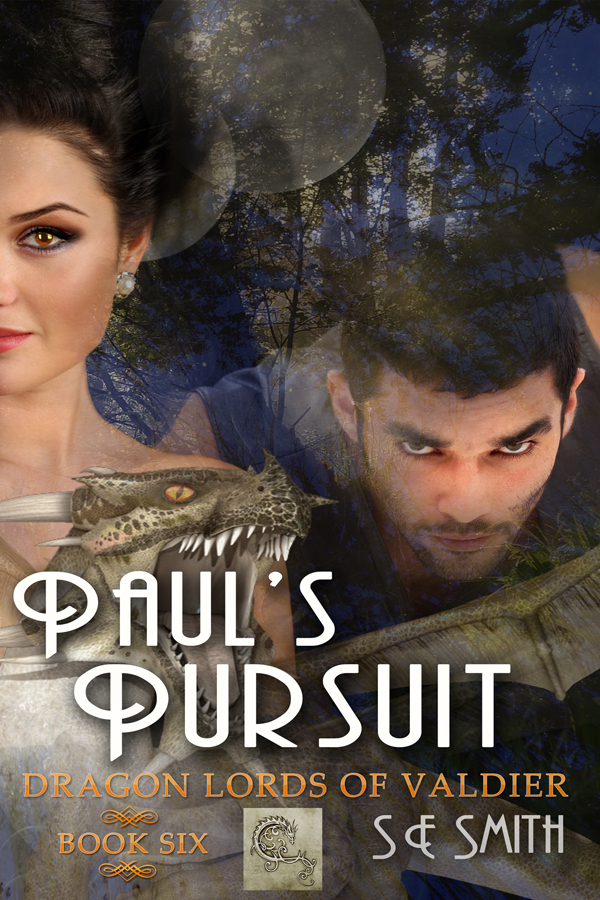 Paul's Pursuit: Dragon Lords of Valdier Book 6
(June 15, 2013)

Excerpt
Paul Grove loves two things in the world more than anything else: his daughter, Trisha, and roaming the mountains and forests of Wyoming. One he would kill for, the other is who he is. He has spent his life devoted to his 'little' girl, even though she isn't so little anymore. When she disappears, he focuses all of his hunting and tracking skills on finding her. The tracks he has found make no sense, the clues left behind unlike any he has ever seen before, and the disappearance of Trisha and her friends a mystery he is determined to solve. When his daughter unexpectedly returns with a warrior from another world, he realizes he has no choice but to return with her to her new home or lose her forever.
Morian Reykill is a High Priestess for the golden symbiots of their world known as The Gods Blood. She is their protector and a member of the Royal House of Valdier. When her first mate is killed she is devastated, for while he was not her true mate, they loved each other very much. She thought to join her mate in the next life but something told her it was not yet her time. She believes it is because of her five sons, all Princes of Valdier devoted to protecting their people and the Hive, the birthplace of the symbiots. When both her sons and her people are threatened, she will do whatever she has to in order to protect them.
Paul Grove finds love in the beautiful alien woman who takes his breath away. For the first time since his wife died when Trisha was a baby, Paul wants someone of his own to hold. When a madman threatens his new family and takes the woman he is determined to claim, he will use all of his skills in hunting, tracking and guerilla warfare to get her safely back by his side.
Morian discovers that the alien male who has claimed her is the true mate she has always hoped of having but thought an impossible dream. Will she be able to save him before a powerful Valdier Royal kills him as he did her first mate or will she lose not only her true mate but her entire family to a man obsessed with gaining control of the Hive and the people of Valdier?
She is willing to sacrifice anything, including her life, to protect them. What she does not know is that Paul is the ultimate predator when his family is in danger. For when he is in pursuit of an enemy, his prey never gets away.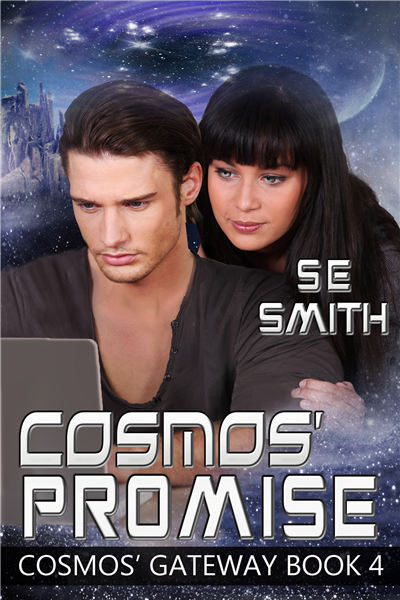 Cosmos' Promise: Cosmos' Gateway Book 4
(Summer 2013)

Excerpt
This book will focus on Cosmos and Terra. I can't wait to finish this story because I want to not only find out what happens with them but with some of the other characters! Lan, Brock, Natasha, Helene, and Merrick are just a few!