International Day of the World's Indigenous Peoples 2015
Monday 10 August 3:00-6:00PM
ECOSOC Chamber , UNHQ, New York
http://undesadspd.org/IndigenousPeoples/InternationalDay/2015.aspx

Commentary:


Where is Nubia in this celebrations and where does Nubia fit!! Nubia, one of the oldest mankind civilizations in the world is isolated from the UN agencies. The UNESCO and the newly founded, the UN Permanent Forum on Indigenous Issues isolated Nubia from their activities and sessions while Nubians are facing a secret war of displacement, cultural cleansing, arson, looting and smuggling its artifacts and antiquities and destroying its lands by dams. Where is UN from plundering Nubia?

While the United Nations celebrates the International Day of the World's Indigenous Peoples 2015 on August 8, 2015, Nubia Project would like to draw the attention of the UN and the international community to the ongoing destruction of Nubia in Sudan by the gold miners who are plundering Nubia and looting its antiquities, destroying its environment by poisonous cyanide and mercury which kill the flora and fauna in Nubia. We call upon the international community to protect Nubia from dams, destroying its antiquities and smuggling its artifacts and the on going enviromental disasters.

Nubians demand protection and fair representation in the UN relevant agencies to preserve their human rights. The UNESCO Director General, Ambassador Irina Bokova was invited several times by Sudanese Nubian organizations to visit the Sudanese Nubian territory threatened by dams to see the situation on the ground or send a fact finding commission to visit the Nubian territory threatened by dams and witnessing massive destruction by gold miners but the Nubians didn't get any response!

Nubians need help from UN and the international organizations to include their language in the educational cericulum in Sudan and Egypt and in universities and educational institutions all over the world like other languages. Nubian language has been rewritten after being abandoned for more than 800 years. It was only spoken throughout these centuries but survived forcible and organized Arabization and cultural assimilation.

http://www.ipetitions.com/petition/save-nubian-language-from-arabization-and-cultural
UN Forum for Indigenous Peoples is urgently asked to allocate a grant from the trust fund dedicated to help the indigenous people to support the on going efforts to educate Nubian language.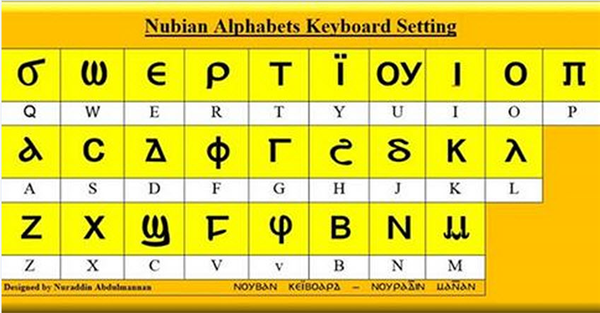 Nubian alphabets keyboard setting